Ola Guys!
Many of ye who are avid blog readers will probably already know that Google announced they will be retiring Goole Reader as of July 1st of this year.
This is going to be a bit of a blow to both blog readers & blog creators alike as for many of ye, your link to, and way-of-knowing-about new blog posts is going to be severed.
This is also a blow to creators who will no doubt lose readership once this comes into effect.
One question I have encountered a lot since this announcement is whether 'Google friends Connect' will also retire along with Google Reader..... as far as I know this has not been addressed by Google (maybe it has & I just missed out on it??) but it's webpage which used to exist at
http://www.google.com/friendsconnect
.....now displays this annoying image.....
Not at all encouraging!
Now I personally wasn't the biggest Google Reader user, having discovered and fallen in love with
Bloglovin'
quite a while ago.
One thing I love about Bloglovin' is that I can interact directly with my beloved blogs without having to leave the site/my bloglovin' account. I can leave comments on blog posts directly, which wasn't as easy to do with Google reader.
Bloglovin' is also available as an app to download for free from the apple store for your i-phone or i-pad which is brill for when you are out & about!
A great thing for blog creators is that people viewing your blog posts through bloglovin' count as page views! This is something that Google Reader lacked in as well.
You can receive daily e-mails informing ye of all & any new blog posts from blogs ye follow!
I highly encourage anyone who is currently using Google Reader to move over to Bloglovin' before July 1st to get yerselves familiarised with this (possibly new-to-you) platform and have a chance to explore and fall in love with it as I have!
An easy way for ye to keep the blogs ye already follow on Google Reader is to import them over to your bloglovin' account. Obviously if you need to, creating a bloglovin' account will be the first step in this process. Next follow this link...
...and hit the "Import from Google Reader" button.
This page will allow ye to import all the blogs ye follow so the disappearance of Google Reader shouldn't be quite as painful!
Ye can follow LetzMakeup.com by clicking the image below.....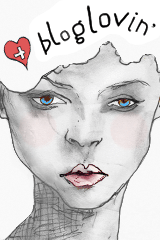 or by following this link directly.....
.... and hitting the "Follow" button!
I hope this helps ye all before Google Reader goes belly-up on July 1st!!
What are yeer thoughts on all of this anyhow or is it important to you as a blog-reader??
Chat soon,
Shiv.
xx